Cicerone Press Guide Books
Believe me when I say I have had my fair share of guide books in my life.. some good, some terrible, some helpful, some useless, some easy to follow, and some just downright dangerous!
So how do the Cicerone Guide Books rate in my opinion, and would I recommend them?.. Before answering these questions, lets see what the folks at Cicerone Press have to say about themselves.
About Cicerone
For over 50 years Cicerone has established a reputation as the very best publisher of guides to exploring the hills, mountains and countryside of Britain, Europe and the world.
We are an enthusiastic team based in Kendal, on the edge of England's Lake District. Where could be better for an outdoor activities guidebook publisher?

We now produce a range of nearly 400 guidebooks to walking, trekking, climbing, mountaineering and cycling. We cover the UK and Europe, and have many guides to other regions of the world. We publish about 30 new guides and fully updated editions each year as well as aiming to update every guide when we reprint it.

Our guides are pocket-sized, with crystal-clear mapping and directions. Our authors are amongst the leading experts in their areas, and their deep love of the mountains and countryside they write about shines through.

History of Cicerone
The business was founded in 1969 when the late Walt Unsworth and Brian Evans, in frustration at the lack of suitable guides to areas of the English Lake District, came together to produce a climbing guide.

Walt was a writer and Brian an artist and printer, so, with their families, a strong team was forged. People liked the guide, the team worked, the proceeds were put into the next book, and the next, and the next and so on.

Since 1999, Cicerone has been developing under the ownership of Jonathan and Lesley Williams, but we still go on, reinvesting to ensure the very best possible guides.

And Finally..
One of the things we are proud of at Cicerone is opening new opportunities. Our "firsts" include…

first independent guides to climbing in the English Lake District
first winter climbing guides to the mountains of Britain
first scrambling guides to the mountains of Britain and Europe
first English guides to exploring and trekking in the Alps
first via ferrata guides
first guides to exploring Jordan
and many others.

We are proud of the hard work and attention to detail we put into our guides. Each guide is carefully considered before we start, working with authors who love the regions they write about. Each guide is meticulously edited and the best possible maps are developed. We work hard to present them as clearly and attractively as possible. The Cicerone production team have now crafted over 200 guidebooks, and together we have over 20 years' experience.
So, let me share my experience with both Cicerone Guidebooks, and the Cicerone website / customer service..
The fact that I'm the proud owner of +30 Cicerone guidebooks is a bit of an early giveaway, but none the less, here is my honest opinion and feedback.
I cannot remember what my first Cicerone Guidebook was, but I know I bought it in 2001. Since then I have been Cicerone's biggest fan..
In all honesty, even though I read ALL my Cicerone Guide books [ numerous times ] I have only actually used about 5 on the trails, but those 5 guidebooks were used intensively , not just for the hike, but also for the preparation, and useful info about the hike / trail. I especially like the "Getting There" and "Getting back home" section that is standard in all the Cicerone guide books I own.
I have found the information in the guidebooks to be very accurate, and up to date. EVERY trail will change over the years, sometimes permanent, some times temporarily, and Cicerone makes it possible for hikers to let the author of the guidebook know of these changes, and they will be posted online, until the guide book is updated / reprinted. This insures that you as a hiker can always be up to date.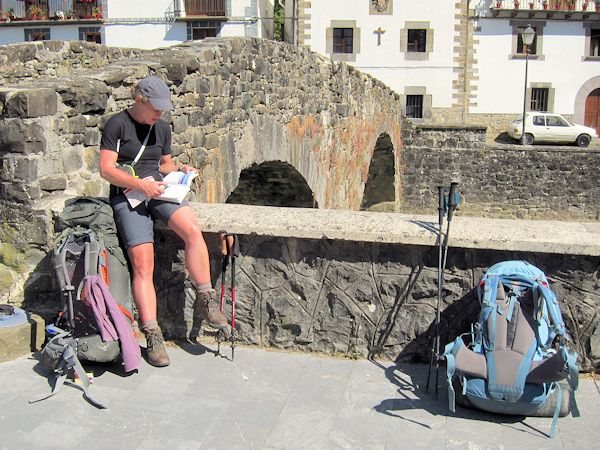 The guidebooks are exceptionally well made, usually you will use a guidebook once on a trail, and even then it will probably get a battering. I used the Cicerone GR11 guidebook 2x on the trail.. The GR11 is an 850km coast to coast hike, crossing the Spanish Pyrenees, I did this hike in 2016 and again solo in 2019. The guidebook was used far.. far beyond normal use, and the guidebook still looks in good shape, not a single loose page, or damage.
All the guidebooks I have, all have the same Introduction layout, which is handy and useful, as a hiker you know what to expect. However I have noticed a big difference in the way the "Authors" write and explain the trail / hike. Due to this, I have definitely become a bigger fan of certain authors, purely based on the way the hike / trail is explained. I myself have become a big fan of certain authors, purely based on their way of writing, and info they share in the guide.
As hikers we are all different, and we all look for different things that are important to ourselves during a hike, some people want to know where they can stay the night in a hostel / hotel, others want to know where they can re-stock their food / gear provisions, and others like myself want to know where there is a [ reliable ] water source.. Thankfully Cicerone authors know exactly what the readers want and need.
I have found that the day to day trail descriptions are very well described. I followed GR11 for 52 days, and only lost the trail about 3 times, and all 3 times were my own fault, if I had paid more attention to the book, I would have stayed on the trail.
Anyway, I can go on and on, but let me just mention the pro's and cons of Cicerone Guide Books.
Positive
A guide for almost every trail..
Affordable
Quality second to none
Very detailed and well written
Excellent additional and useful info  about the trail
A lot of the books have laminated rain-covers or plastic rain cover sleeves
Great website, and customer service
50% Discount if you already own the guidebook and there is a New version released
View any updates / changes to a trail on their website [ details in the guidebook ]
Negative
[ True Story ]
Me: Ooohhh Yessss, I have an email from Hannah..
Girlfriend : [ frown ] WHO'S HANNAH!!??
Me: [ not saying anything, just got a big smile on my chops]
Girlfried : OI MISTER! WHO IS HANNAH!!?
Me: Shush!.. I'm looking at what Hannah has sent me..
Girlfriend: !!@$*&$$#!!%!
Me: [sleeping on the couch, dreaming of the new guide books mentioned  in the Cicerone News Letter ]
Just let your partner know that Hannah sends you a monthly update of the new Cicerone Guide Books, and all will be well.. 😉
On a serious note
I can not fault Cicerone Guide Books.. I am a huge fan of theirs, the books are well written, the quality is second to none.
I would without any single doubt or hesitation highly recommend Cicerone Guide Books
Check out their vast collection of books at –  https://www.cicerone.co.uk/